A Brief History of Quakers in Princeton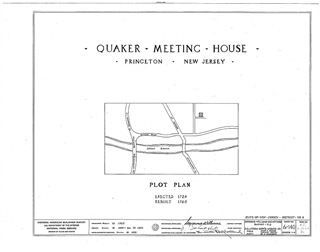 In 1664, English soldiers and settlers took over Dutch colonies in what would later become New York and New Jersey. King Charles II of England granted these colonies to James, the Duke of York, who then turned all of New Jersey over to Lord John Berkeley and Sir George Carteret. Berkeley divided the land into the provinces of East Jersey and West Jersey, with Berkeley taking the west and Carteret the east. In 1675, the land that is now greater Princeton belonged to Berkely and was described as "wilderness" by William Edmundson, a Quaker missionary passing through. Edmundson claimed that in a whole day of traveling in this area, he had seen "no tame creature." Later that year, Berkeley sold West Jersey to a group of Quakers. In 1677 these owners issued a framework of government for the area, calling their document the "Concessions and Agreements of the Proprietors, Freeholders and Inhabitants of the Province of West New Jersey in America." It provided for equal treatment of Native Americans, freedom of religion, elected local government, trial by jury, and other rights that reflected Quaker values and would later appear in the Constitution of the United States.
In 1681, Carteret's East Jersey holdings were auctioned off to William Penn and eleven other prominent Quakers. These twelve were joined by an additional twelve, eight of whom were also Quakers. The original plan was to unite all of East Jersey and West Jersey as a Quaker colony. But Penn eventually decided to focus his energies and attention on what is now Pennsylvania, and over the next twenty years (through purchases and deeds too complex to describe here) most of what is now most of Princeton Township came into the possession of six Quaker families: Richard Stockton (the grandfather of the signer of the Declaration of Independence), Benjamin Clarke, William Olden, Joseph Worth, John Horner, and Benjamin Fitz Randolph. These Quakers created the settlement of Stony Brook in the hollow of the bend in the brook that runs along what is now Quaker Road.
In 1709, Benjamin Clarke donated the 9.6 acres that is now home to Princeton Monthly Meeting and Princeton Friends School for the construction of a Quaker meetinghouse and burial ground. While no construction happened for several years, the property was almost immediately used as a burial ground. Quakers at this time began holding meetings for worship in members' homes.
In 1712, the first industry came to the Stony Brook area, in the form of two grist mills and a bolting (or sifting) mill. These remained in operation into the early 20th century. Also at the site of the mill was a general store. The road now known as Quaker Road ran from the grist mill and store past what is now the meetinghouse site, then 13 miles east to the Crosswicks Meeting.
In 1724, the first meetinghouse, a timber frame building, was erected on the present site. This became the center of Quaker community life. In this year, the area along Nassau Street between Bayard Lane and Witherspoon Street was named Princeton, and this area north of Stony Brook became settled by Presbyterians. In 1756, the meetinghouse was severely damaged by fire (or wind) and in 1761 was rebuilt in stone over its original foundation.
In 1754-6, the Presbyterian College of New Jersey moved from Newark to Princeton. A number of original Quaker settlers donated land to the College of New Jersey, today known as Princeton University. In 1777, during the American Revolution, the meetinghouse was used as a hospital by both American and British forces.
In 1781, Friends built a Schoolmaster's House at the base of the property and classes were held in this building for nearly two decades, welcoming the children of slaves and Native Americans as well as Quakers.
In 1800, a Schoolhouse was erected in what is now the meetinghouse's parking lot. Classes were held here for several decades.
By 1878, Quakers, who had been the predominant Christian group in Princeton, had become outnumbered by Presbyterians, most Quaker activity was centered in West Jersey and Pennsylvania, and most local development was centered around the College. Attendance at meeting had dwindled to such an extent that the meeting was finally "laid down" and the property was given in trusteeship to Crosswicks Meeting. Remaining Friends attended meetings in Trenton or Crosswicks. Over time, the Stony Brook property was neglected and fell into disrepair. The original Schoolhouse was torn down in 1900 or 1901.
In 1912, as part of a plan to reopen the Princeton meeting, repair work was begun on the Stony Brook property. In the summer of 1914, meetings for worship began to be held during the summer months. In 1941, The Society of Friends was formerly re-established in Princeton, meeting at the YWCA and at Princeton University.
In 1949, Crosswicks Meeting deeded the property back to the Princeton Monthly Meeting of Friends at Stony Brook.
In 1959, the First Day School was built, and in 1965 a small addition to it was added. This construction was evidence of a vibrant presence, once again, of the Religious Society of Friends in the Princeton area.
For more information about the history of Princeton, please visit Historical Society of Princeton.