Welcome to Craig N. Sellers, Our New Head of School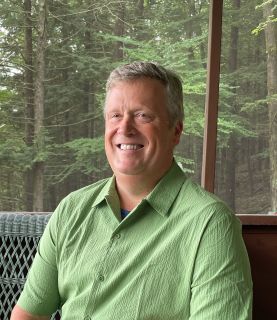 Craig brings to PFS decades of experience as a teacher, administrator, fundraiser, and head of school at several different institutions, including Friends schools. As a Quaker himself, he believes in the lifelong skills and values that a Friends education provides, and has seen how children use those gifts to create a better world. He is excited to "build a graceful and sturdy bridge" to PFS's future.
Welcome to Devin DeShields, Director of Admissions
Devin is an experienced admissions leader known for building community while creating and implementing strategic initiatives in enrollment management. He has over a decade of experience teaching, coaching, advising, and leading at multiple levels of education. He is excited to contribute to this tight-knit community, lead with the guidance of Quaker values, and interact with current and prospective students and families daily.
"To teach in a manner that respects and cares for the souls of our students is essential if we are to provide the necessary conditions where learning can most deeply and intimately begin."

- bell hooks, Teaching to Transgress
| | Name | Title | |
| --- | --- | --- | --- |
| | Botts, Abby | School Counselor and Secondary School Placement Coordinator | |
| | Braconi, Courtney | Director of Summer Camps and Auxiliary Programs | |
| | Carabelli, Jessica | Beginning School Advisor | |
| | Ceci, Allegra | Lower School Science and Gardening Teacher | |
| | D'Amore, Mary | Registrar | |
| | DeShields, Devin | Director of Admissions | |
| | Detherage, Amanda | First and Second Grade Teacher | |
| | Downing, Barbara | Business Office Manager | |
| | Dwyer, Suzy | Librarian, Social Studies Teacher, and 6th-8th Grade Advisor | |
| | Estrada, Silvia | Spanish Teacher and 6th-8th Grade Advisor | |
| | Fruh, Dylan | Art Teacher and 3rd Grade Advisor | |
| | Haque, Michelle | School Nurse | |
| | Hurwitz, Jessica | First and Second Grade Teacher | |
| | Kirchhoff, Nicholas | After School Program and Substitute Teacher | |
| | Kirkenir, Samantha | Schoolhouse Manager | |
| | Liu, Freya (Fangyuan) | Mandarin Teacher | |
| | Luck, Mallory | Learning Support Coordinator and 4th-5th Grade Advisor | |
| | Lynch, Patrick | Science Teacher and 4th-5th Grade Advisor | |
| | Marinari, Melissa | Social Studies Teacher and 6th-8th Grade Advisor | |
| | Maryland, Kyle | After School Program and Substitute Teacher | |
| | Miller, Susan | Administrative Assistant | |
| | Mirkin, Saurora | English Literature Teacher and 4th-5th Grade Advisor | |
| | Morris, Stephanie | 3rd Grade Advisor | |
| | Nilsson, Luke | Director of Facilities | |
| | Obeng, Kofi | Director of Student Life | |
| | Patel, Bhumi | Math Teacher and 4th-5th Grade Advisor | |
| | Potter, Daniel | Music and Math Teacher, 6th-8th Grade Advisor, and Educational Technology Coordinator | |
| | Rock, Eleanor | 1st Grade Assistant Teacher | |
| | Sellers, Craig | Head of School | |
| | Stryker, Donald | Property Manager | |
| | Tally, Amanda | Beginning School Advisor | |
| | Zimmerman, James | After School Program | |