Learning Support Program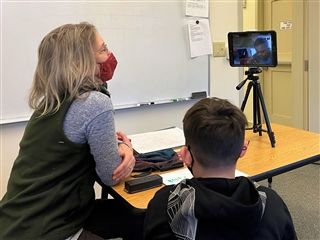 Our Learning Support Program provides targeted instruction to individuals and small groups of students to address particular academic needs that cannot be met, for whatever reason, within the standard curriculum or in the normal classroom setting. Support may be offered in a variety of ways, and in some instances requires a separate fee for services.
A student may be scheduled to meet regularly with a teacher for highly individualized instruction in language arts, math, or foreign language.
A student may be scheduled for one or two periods per week beyond the normal class for extra support in language arts, math, foreign language, or English as a Second Language
A Learning Support Program teacher may be scheduled into a specific class in order to provide focused attention to one or two particular students within the context of normal classroom instruction.
Students who are classified, and therefore eligible to receive state-funded supplemental instruction, may be scheduled into individual or small group tutoring sessions after school with a teacher from Middlesex Regional Educational Services Commission.
In addition to providing instruction to individuals or small groups of students, Learning Support Program teachers also spend time in the classroom observing individual students at the request of other faculty members, in order to help teachers better understand and address individual learning styles.