Here's how we begin every day. With music or a quiet signal, we move into morning circle on the rug. In silence, we settle our bodies and our minds and open ourselves up to a new day. We then greet each other and our teachers by name, share our hopes and questions, and spend time getting to know our friends and ourselves. Then, and only then, the school day begins.
The work of our youngest students is hard. There's so much to learn – the symbols and sounds of language, the puzzle and pattern of numbers, the feel of a pencil, the finger grips of tricky scissors, the way we use our feet to lift our swing up to the sky. We practice moving our bodies through a small space, flicking a math spinner, sharing a box of colored pencils, and helping a friend. We begin to understand the difference between home and school, circle time and chair time, inside voices and outside voices. Most of all, we learn that school is fun, sometimes challenging, and that kindness, truly, is our daily gift.
Like the sensory beings we are, we use everything to learn about our world – our fingers and toes, manipulatives like frogs and bugs and cars, our woods and fields, our so-very-curious minds, and each other. We watch monarchs grow from the tiniest caterpillars to fragile-winged marvels that can fly hundreds of miles. We jump for joy when our tadpoles suddenly sprout legs. We learn that letter symbols magically turn into words which turn into books and poems that make us giggle and feel and imagine.
There will be a time when we will become third graders with binders and schedules, Independent Reading Logs (IRLs), and Problem of the Week (POW). We know we will get there and be wonderfully prepared for the next stage of school. But for now, we will build our strong foundations, step by gentle step, hand by friendly hand, running, leaping, wondering, reveling in the process that starts off as that tiny caterpillar and sends us on as mighty fliers, ready to embrace the world.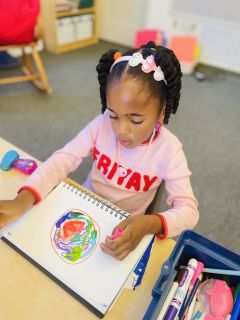 My first meeting partner's name was Hannah. I worshiped her; I thought she was the bee's knees, the bear's overalls, and the cat's pajamas. I remember asking her what it was like to be an older kid, and she replied "It's fun, but it's hard. We always have to make sure that we are acting appropriately so your class can turn out great, too." I had no idea what that meant because I had no idea what it meant to be a leader. Now, as I am upon my last day at Princeton Friends School, I hope that the younger grades see this 8th grade class as I saw my elders."

-Tara D., class of 2010