A Brief History of Progressive Education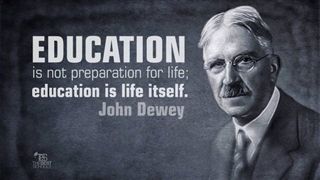 From there, Dewey and a small group of like-minded colleagues began testing the idea that education ought to be about raising critical, questioning thinkers. Along with testing the theory, the Laboratory School also tested the limits of a society entrenched in civic inequities and a system of education built upon racial and economic segregation.
Throughout the 20th century progressive educators rocked the boat, often as the first voices to speak out for the importance of diversity, multiculturalism, multiple intelligences, cooperative and collaborative learning, and what has since become known as a "child-centered" approach to teaching. Drawing from the work of Dewey and later many who taught his work at Columbia University's Teachers College, progressive education gained ground rapidly by opposing a status quo that was separate, unequal, and increasingly anachronistic. By mid-century, many public schools had adopted elements of the progressive curriculum. What followed was a flourishing of independent (and eventually charter) schools built upon progressive ideals: The Bank Street College of Education Elementary School and The Ethical Culture Fieldston School in New York City; The Peninsula School in Menlo Park, California; The Putney School in Vermont; the Park School of Baltimore, and many more.
Princeton Friends School is a progressive Quaker school. In fact, the ideals of progressive education fit beautifully with the Quaker values at the center of Friends education: community, equality, and the honoring of every student as an individual.